Neon lamps are fun and beautiful things. Hackers do love anything that glows, after all. But producing them can be difficult, requiring specialized equipment like ovens and bombarders to fill them up with plasma. However, [kcakarevska] has found a way to make neon lamps while bypassing these difficulties.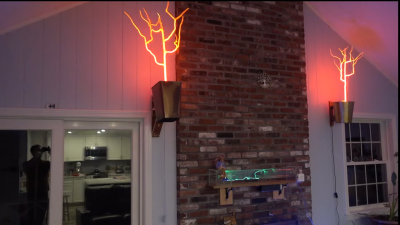 The trick is using magnesium ribbon, which is readily available form a variety of suppliers. The ribbon is cut into small inch-long fragments and pushed into a borosilicate tube of a neon sculpture near the electrode. Vacuum is then pulled on the tube down to approximately 5 microns of pressure. The tube is then closed off and the electrode is heated using an automotive-type induction heater. In due time, this vaporizes the magnesium which then creates a reactive getter coating on the inside of the tube. This picks up any oxygen, water vapor, or other contaminants that may have been left inside the tube without the need for an oven vacuum pumping stage. The tube is then ready to be filled with neon. After about 24 to 48 hours of running, the getter coating will have picked up the contaminants and the tube will glow well.
It's a useful technique, particularly for complex neon sculptures that won't readily fit in an oven for pumpdown. If the glasswork is still too daunting, though, you can always use other techniques to get a similar look. Video after the break.
Continue reading "Making Neon Trees The Easy Way With No Oven Pumps Required" →