Toolchanging in 3D printers is no longer something from the bleeding edge; it's going mainstream. E3D has a high-quality kit for a toolchanger and motion system, our own Joshua Vasquez has shared details about the open-source toolchanging Jubilee design, and just recently Prusa3D formally announced the Prusa XL, which promises toolchanging with up to five different extruders.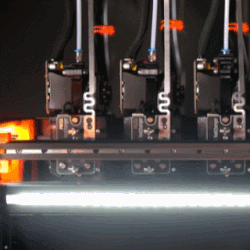 It's safe to say toolchanging on 3D printers has stepped to the front, but what comes next? What kind of tools other than extruders make sense on a 3D printer?
First, let's explain what makes separate extruders such fantastic tools. Being able to change extruders on-demand during a print enables things like true multi-material printing. Printing in more than one color or material will no longer be done by pushing different filaments through a single nozzle, which limits a print to materials that extrude under similar conditions and temperatures. Toolchanging means truly being able to print in multiple materials, even if they have different requirements, because each material has its own extruder. That's a clear benefit, but what about tools other than extruders?
Continue reading "Ask Hackaday: Are Extruders The Only Feasible Tools For Toolchanging?" →