[Kerry Wong], ever interested in trying out and tearing down electrical devices, demonstrates and examines the SV 6301a Handheld Vector Network Analyzer. He puts the machine through its paces, noting that the 7 inch touchscreen is a pretty nice feature for those whose eyesight isn't quite what it used to be.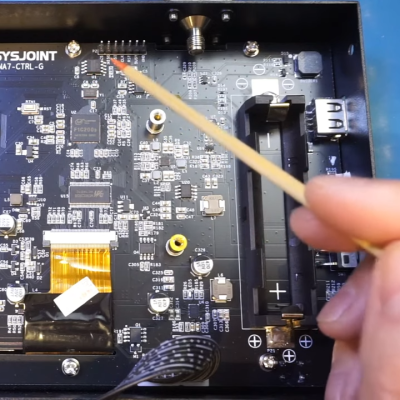 What's a Vector Network Analyzer (VNA)? It's not for testing Ethernet or WiFi. It's aimed at a more classical type of "network". The VNA tests and evaluates characteristics of electrical networks, especially as related to RF and microwave.
It provides detailed information about properties across a specified frequency range, making it an indispensable tool for advanced work. Tektronix has a resource page that goes into detail about exactly what kinds of things a VNA is good for.
[Kerry] shows off a few different features and sample tests before pulling the unit apart. In the end, he's satisfied with the features and performance of the device, especially the large screen and sensible user interface.
After all, not every piece of test equipment does a great job at fulfilling its primary function, like the cheap oscilloscope that was a perhaps a little too cheap.
Continue reading "Vector Network Analyzer Demo And Teardown" →