Nothing makes us feel more like we're on Star Trek then saying "Computer, turn on desk light," and watching the light turn on. Of course, normal people would have left the wake up word as "Alexa," but we like "Computer" even if it does make it hard to watch Star Trek episodes without the home automation going crazy.
There's a lot of hype right now about how voice recognition and artificial intelligence (AI) are transforming everything. We've even seen a few high-profile types warning that AI is going to come alive and put us in the matrix or something. That gets a lot of press, but we're not sure we are even close to that, yet. Alexa and Google's similar offerings are cool, there's no doubt about it. The speech recognition is pretty good, although far from perfect. But the AI is really far off still.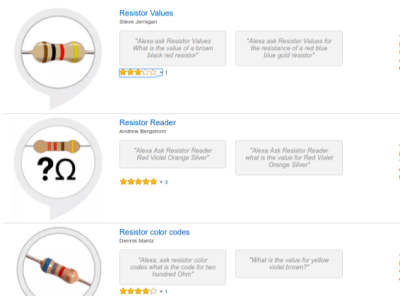 Today's devices utilize two rather rudimentary parts to provide an interaction with users. The first is how the devices pattern match language; it isn't all that sophisticated. The other is the trivial nature of many of the apps, or — as Alexa calls them — skills. There are some good ones to be sure, but for every one useful application of the technology, there's a dozen that are just text-to-speech of an RSS feed. Looking through the skills available we were amused at how many different offerings convert resistor color codes back and forth to values.
There was a time when building electronics meant learning the resistor color code. With today's emphasis on surface mount components, though, it is less useful than it used to be. Still, like flossing, you really ought to do it. However, if you have an Amazon Alexa, it can learn the color code for you thanks to [Dennis Mantz].
Don't have an Alexa? You can still try it in your browser, as we will show you shortly. There are at least eight similar skills out there like this one from [Steve Jernigan] or [Andrew Bergstrom's] Resistor Reader.
Continue reading "Alexa, Sudo Read My Resistor! A Challenge For Hackers" →