Asteroids is one of the classic games of the early arcade era. Launched in 1979 by Atari, it relied upon using an XY vector monitor to deliver crisp graphics for its space-based gameplay. One of the limitations of the original arcade games was that the game was only rendered in a single colour, white. Over 30 years later, [Arcade Jason] decided to see what it would take to build a color Asteroids machine.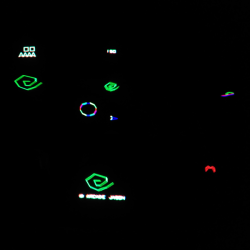 The hack relies on the fact that the original game used a four-bit resistor ladder DAC to draw vectors in different intensity levels. Through some ingeniously simple hardware, this DAC is repurposed to denote different colours instead. It's laced together with a 74LS08 AND gate chip, along with a handful of resistors and diodes. Three bits are used for red, green, and blue, respectively, with the fourth used as a "white boost" signal to allow the differentiation of colours like red and pink, or dark and light blue. It's then all wired into an RGB vector monitor for final display. After that, it's just a matter of a simple ROM hack to set the colors of various on screen objects.
Vector monitors are notoriously hard to film well, but it's clear that in person the output is rather impressive. Making color versions of old retro games is actually a hobby of [Arcade Jason]'s – we've featured his color Vectrex before. Video after the break.