Even the most secular among us can understand why somebody would want to have a digital version of the Bible. If you're the sort of person who takes solace in reading from the "Good Book", you'd probably like the ability to do so wherever and whenever possible. But as it so happens, a large number of people who would be interested in a more conveniently transportable version of the Bible may not have the technological wherewithal to operate a Kindle and download a copy.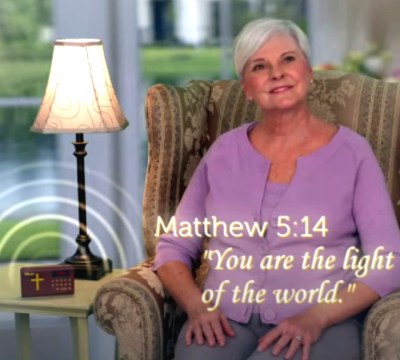 Which is precisely the idea behind the Wonder Bible, a pocket-sized electronic device that allows the user to listen to the Bible read aloud at the press of a button. Its conservative design, high-contrast LED display, and large buttons makes it easy to operate even by users with limited eyesight or dexterity.
The commercial for the Wonder Bible shows people all of all ages using the device, but it's not very difficult to read between the lines and see who the gadget is really aimed for. We catch a glimpse of a young businessman tucking a Wonder Bible into the center console of his expensive sports car, but in reality, the scenes of a retiree sitting pensively in her living room are far closer to the mark.
In truth, the functionality of the Wonder Bible could easily be replicated with a smartphone application. It would arguably even be an improvement by most standards. But not everyone is willing or able to go that route, which creates a market for an affordable stand-alone device. Is that market large enough to put a lot of expense and engineering time into the product? Let's crack open one of these holy rolling personal companions and find out.