3D printers have long since made it easy for anyone to make 3-dimensional zoetropes but did you know you can take advantage of a 4th dimension by stretching time? Previously the duration of a zoetrope animation would be however long it took for the platform to rotate once. To make it more interesting to watch for longer, you filled out the scene by creating concentric rings of animations. [Kevin Holmes], [Charlie Round-Turner], and [Johnathan Scoon] have instead come up with a way to make their animations last for multiple rotations, longer than three in one example. If you're not at all familiar with these 3D zoetropes, you might want to check out this simpler version first.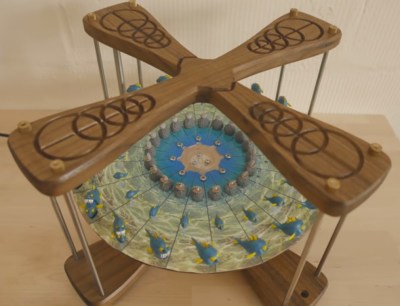 Their project name is 4-Mation but they call the time-stretching technique, animation multiplexing. One way to implement it is to use one long spiral beginning in the center and ending on the platform's periphery. It's the spiral path which make the animation last longer.
In their Fish eating Fish animation, the spiral is of a small fish which exits a clam at the center and gets progressively larger as it spirals outward until it swallows another fish located in a ring at the periphery. Of course when you look at it with a properly timed strobe light, there is no spiral. Instead, it appears as though a bunch of fish move more-or-less radially out from the center. The second video embedded below walks through the animation step-by-step, making it easier to follow the intricacies of what's going on.
Other features include built-in strobe lighting and both manual and phone app control. This project is a product for a kickstarter campaign and so normally, details of the electronics would be absent. But clearly [Kevin] is familiar with Hackaday and sent in some additional info which you can find below, along with the videos.
Continue reading "Time-Stretching Zoetrope Animation Runs Longer Than It Should" →