Quick references are handy, but sometimes it's nice to have a process demonstrated from beginning to end. In that spirit, [Darren Stone] created a video demonstrating how to model a twisted part in FreeCAD, showing the entire workflow of creating the part as a blend of surfaces and curves that get turned into a solid.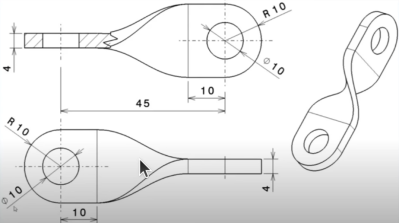 FreeCAD is organized using the concept of multiple "workbenches" which are each optimized for different tools and operations, and [Darren] walks through doing the same jobs in a few different ways.
This twisted bracket is a simple part that is nevertheless nontrivial from a CAD perspective, and that makes it a good candidate for showing off the different workbenches and tools.
The video below is also pretty good overall demonstration of what designing a part from a mechanical drawing looks like when done in FreeCAD. As for mechanical drawings themselves, we've seen FreeCAD can be used to make those, too.