Airships. Slow, difficult to land, and highly flammable when they're full of hydrogen. These days, they're considered more of a historical curiosity rather than a useful method of transport.
Hybrid Air Vehicles are a UK-based startup working to create a modern take on the airship concept. The goal is to create cleaner air transport for short-hop routes, while also solving many of the issues with the airship concept with a drastic redesign from the ground up. Their vehicle that will do all this goes by the name of Airlander 10. But is it enough to bring airships back to the skies?
A Hybrid Technology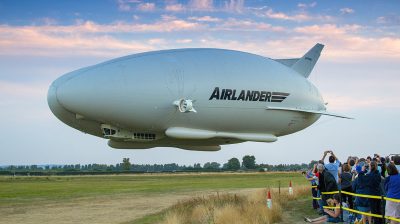 The Airlander 10 is not a lighter-than-air craft like traditional airships. Instead, the vehicle uses the buoyancy from its helium envelope to create only 60-80% of its lift. The rest of the left is generated aerodynamically by air passing over the eliptical shape of the airship's body. This lift can also be further augmented by two diesel-powered ducted fans on the sides of the airship, which can pivot to assist with takeoff and landing. Two further fixed ducted fans on the rear provide the primary propulsion for the craft.
The hybrid approach brings several benefits over the traditional airship model. Chief among them is that as the Airlander 10 is heavier than air, it need not vent helium throughout flight to avoid becoming positively buoyant as fuel burns off, nor does it need to vent helium to land. However, it still maintains the capability to loiter for incredibly long periods in the sky as it needs to burn very little fuel to stay aloft. Reportedly, it is capable of five days when manned, and even longer durations if operated in an unmanned configuration. Using helium for lift instead of solely relying on engine thrust and wings means that it is much more fuel efficient than traditional fixed-wing airliners. The company's own estimates suggest the Airlander 10 could slash emissions on short-haul air routes by up to 90%. The gentle take-off and landing characteristics also mean the vehicle doesn't require traditional airport facilities, making it possible to operate more easily in remote areas, on grass, sand, or even water. Continue reading "Could Airships Make A Comeback With New Hybrid Designs?" →