Like so many consumer products these days, baby toys seem to get progressively more complex with each passing year. Despite the fact that the average toddler will more often than not be completely engrossed by a simple cardboard box, toy companies are apparently hell-bent on producing battery powered contraptions that need to be licensed with the FCC.
As a perfect example, we have Fisher-Price's Linkimals. These friendly creatures can operate independently by singing songs and flashing their integrated RGB LEDs in response to button presses, but get a few of them in the room together, and their 2.4 GHz radios kick in to create an impromptu mesh network of fun.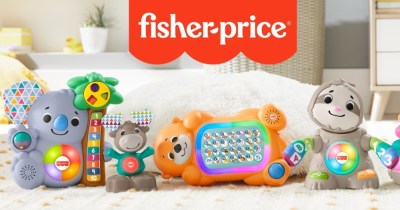 Once connected to each other, the digital critters synchronize their LEDs and sing in unison. Will your two year old pay attention long enough to notice? I know mine certainly wouldn't. But it does make for a compelling commercial, and when you're selling kid's toys, that's really the most important thing.
On the suggestion of one of our beloved readers, I picked up a second-hand Linkimals Musical Moose to take a closer look at how this cuddly pal operates. Though in hindsight, I didn't really need to; a quick browse on Amazon shows that despite their high-tech internals, these little fellows are surprisingly cheap. In fact, I'm somewhat embarrassed to admit that given its current retail price of just under $10 USD, I actually paid more for my used moose.
But you didn't come here to read about my fiscal irresponsibility, you want to see an anthropomorphic woodland creature get dissected. So let's pull this smug Moose apart and see what's inside.