The only thing better than getting your hands on a repairable piece of hardware is actually finding the thing in the first place, which is why we love this "official" repair logo created by [Yves Parent]. Our predilection for crossed wrenches had (almost) nothing to do with it.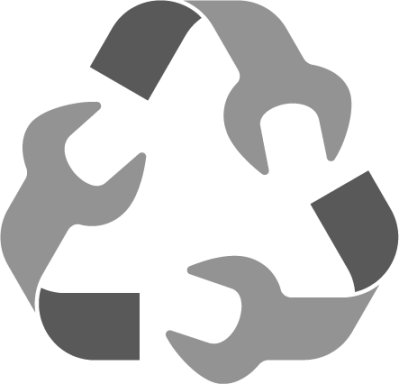 Designed to mimic the ubiquitous "Recycle" logo, [Yves] originally created the icon for Repair Café Roeselare — but realizing that it had wide practical applications, he got the OK to put it up on GitHub for others to use. Whether you're a hobbyist creating your first PCB or a pro designing a commercial product for a particularly forward-thinking client, slapping this logo on signifies that your creation is destined for better things than the scrap heap.
[Yves] has helpfully provided the logo in both vector format (SVG) and PNG, the latter at several scales for your convenience. We'd love to see it offered in various production and CAD formats as well, so it can be dropped into as many projects as possible. So if you end up creating a DXF or STL version, be sure to submit a pull request.
While getting others onboard with this logo is just a ground roots effort currently, who knows what the future may bring? Today we take it for granted, but the official open source hardware "gear" logo has only been around for about a decade.