We've always admired Curta mechanical calculators, and would be very hesitant to dismantle one. But [Janus Cycle] did just that — and succeeded. A friend sent him a Curta Model 2 calculator that was frozen up. Just opening the case involved percussive force to remove a retaining pin, and once inside he discovered the main shaft had been slightly bent. No doubt this calculator had suffered a drop at some point in the past.
I'm sticking to the rule of doing no harm — I'd rather not be able to fix this than do something that causes more problems.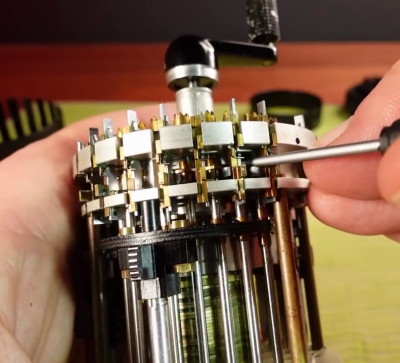 But surprisingly, he was able to get it substantially back in working order without completely taking apart all 600+ parts. Most of the issues were shafts whose lubrication had become gummy, and one carry lever was slightly bent. There is still a little more work, but soon this calculator will once again be cranking out results.
Has anyone dismantled a mechanical contraption this complicated before, for example a teletype machine? Let us know in the comments. If you want to brush up on your Curta knowledge, check out the Curta Calculator Page. We also wrote a Retrotechtacular about the Curta before. Thanks to [mister35mm] for sending in this tip.