Early last year, a very unique Game Boy Color showed up on Chinese shopping site Taobao. Rather than the rather anemic-looking display of the original GBC, this version was modified with a modern IPS LCD. Even in the pictures shown on the product page, it was clear the display on this unit was far more advanced than anything Nintendo ever packed into a Game Boy. The retro gaming community went wild, and soon the site was overwhelmed with orders. The majority of the sales were canceled by the seller, and it's believed as few as 75 of these hacked GBCs were actually shipped out.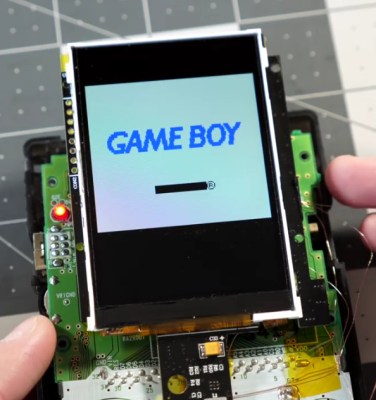 Thanks to one of his viewers, [Colin] was able to get his hands on one of these extremely rare customized handhelds. Clearly a man after our own heart, his first inclination was to tear the thing apart and see how they built it. While he had a fairly good idea of how they managed this hybrid of modern and classic technology, there were a couple of surprises inside.
The device has a completely stock main board, and as such works and plays like a normal GBC. But upon flipping the main board over, [Colin] found a nest of thin magnet wire connecting the new display controller to individual buttons on the front panel. As he later confirmed when he reassembled the system, this allows the user to adjust the display's brightness by holding "Select" and using the directional pad.
As for the screen itself, the big surprise was that it's clearly pulled out of a relatively recent smartphone. The screen is physically much larger than the opening in the GBC's front panel, but through some software trickery the image is displayed only in the area that's visible to the player. [Colin] managed to get a hold of a few contacts "in the know" who confirmed to him that both the hardware and software for the display controller were specifically created for this application, and are unlikely to be duplicated by anyone else.
Considering most of the Game Boy hacks we cover are about somebody jamming modern hardware into them, it's an interesting change of pace to see a group that was so adamant about retaining as much original hardware as possible while still managing to improve the user experience.
[Thanks to Doc Oct for the tip]
Continue reading "Investigating The World's Rarest Game Boy" →