If you have a Raspberry Pi and have any interest in its peripherals, you may be familiar with the grinning pirate logo of the British company, Pimoroni. The Sheffield, UK based outfit first established a niche for itself as one of the go-to places for much of the essentials of Pi ownership, and has extended its portfolio beyond the Pi into parts, boards, and components across the spectrum of electronic experimentation. Their products are notable for their distinctive and colourful design language as well as their  constant exploration of new ideas, and they have rapidly become one of those companies to watch in our sphere. On our way up to Newcastle for Maker Faire UK, we passed close enough to the Pimoroni HQ to be able to ask nicely if we could drop in and have a tour.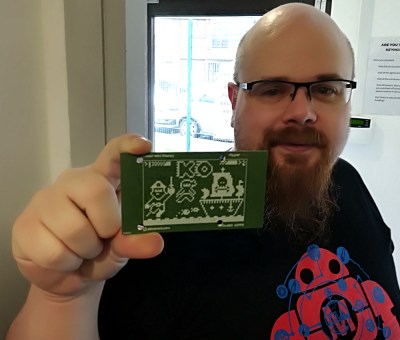 The Pimoroni HQ can be found in a nondescript unit with a discreetly placed sign on an industrial estate after a short drive through the city from the motorway. Inside it's the same as thousands of other units, a set of offices at the front and a cavernous warehouse behind, except this one is filled with the kinds of goodies that get our blood pumping! And we're told this toybox warehouse is soon to be joined by another nearby unit, as the Pimoroni business is expanding.
Our guide was the company co-founder Paul Beech, whose work you will be familiar with even if this is the first time you've heard his name;  Paul was the designer of the Raspberry Pi logo! The company is not exclusive to that platform but it's fair to say they have a strong connection with the Pi, starting in 2012 with as their website puts it: "One laser cutter and a kettle" on which they produced the first of their iconic PiBow laser-cut sandwich Raspberry Pi cases.