Home consoles were never intended to be made portable, though enterprising hackers have always pushed the boundaries with various tricks and innovative builds. [Robotanv] hasn't built a fully handheld Xbox Series S, but he has demonstrated one neat trick: making one run on a USB powerbank.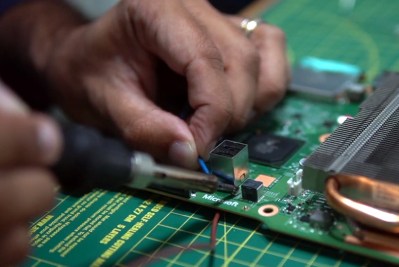 The project starts with an Anker USB-C powerbank, chosen for its ability to deliver a mighty 140 watts. It's hooked up to a ZY12PDN USB-C trigger board, which enables the powerbank and tells it which voltage to output. It's set up to run at 20 volts, which is too much for the Xbox, which prefers 12 volts. The reason for this is that the only way to get the full power out of the powerbank is to run at its maximum voltage. A buck converter is used to step down the voltage to 12 volts.
As for the console itself, a lot of disassembly is required, but minimal modifications. Just two wires connect the power supply to the Xbox's motherboard. Subbing in your own 12 volt supply here is enough to run the console without any problems.
Running the Xbox off the powerbank, along with an external screen, [Robotanv] is able to play Cyberpunk 2077 for an about hour before the juice runs out. While we'd love to see the whole setup duct-taped together into a ersatz Xbox portable, it would probably be a little messy. [Robotanv] has big plans for the future of the project, though, and we can't wait to see what those are. Continue reading "Running The Xbox Series S On A USB Powerbank" →