We've held our third drawing for the Trinket Everyday Carry Contest. Once again we've used a Pro Trinket to pick the random winner. This week's winner is [Scissorfeind] with his project Stylin' safety jacket
In true hack style, [Scissorfeind] went into this project with two goals: A jacket that will be visible at night, and keep him "looking f*cking sick". The jacket itself is a faux leather affair from a thrift store. [Scissorfeind] added some studs for bling, and he's working on adding a ton of electronics for light.
The Pro Trinket will be driving a series of LED matrices, which [Scissorfeind] is working on turning into POV displays. The matrices come from an LED clock which [Scissorfeind] saved from the landfill. In fact, most of the parts in the jacket are upcycled from e-waste. The jacket is just starting to come together. We can't wait to see the final results!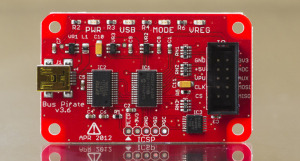 We hope that [Scissorfeind] enjoys his Bus Pirate V3.6  from The Hackaday Store. The Bus Pirate was designed by former Hackaday writer [Ian Lesnet] as a Swiss Army knife of electronic communications. If you're trying to connect to a circuit with  SPI, I²C, JTAG, or UART, the Bus Pirate has you covered. It can do plenty more though – from reading analog data to programming components. Check out [Brian Benchoff's] full review on the Bus Pirate V3.6 product page!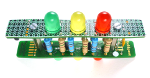 If the pseudo random number gods didn't smile on you this week, don't worry, there are still two more chances to win a random drawing! Our next drawing will be on 12/23/2014 at 9pm EST. The prize will once again be a Cordwood Puzzle! To be eligible you need to submit your project as an official entry and publish at least one project log during the week.
The main contest entry window closes on January 2, 2015 – but don't wait for the last minute! Hit the contest page and build some awesome wearable or pocketable electronics!