By now, you've likely heard that scientists have found a potential sign of biological life on Venus. Through a series of radio telescope observations in 2017 and 2019, they were able to confirm the presence of phosphine gas high in the planet's thick atmosphere. Here on Earth, the only way this gas is produced outside of the laboratory is through microbial processes. The fact that it's detectable at such high concentrations in the Venusian atmosphere means we either don't know as much as we thought we did about phosphine, or more tantalizingly, that the spark of life has been found on our nearest planetary neighbor.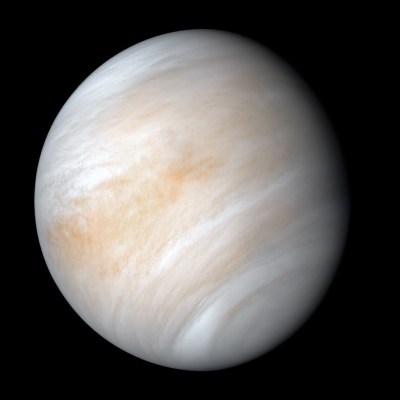 To many, the idea that life could survive on Venus is difficult to imagine. While it's technically the planet most like Earth in terms of size, mass, composition, and proximity to the Sun, the surface of this rocky world is absolutely hellish; with a runaway greenhouse effect producing temperatures in excess of 460 C (840 F). Life, at least as we currently know it, would find no safe haven on the surface of Venus. Even the Soviet Venera landers, sent to the planet in the 1980s, were unable to survive the intense heat and pressure for more than a few hours.
While the surface may largely be outside of our reach, the planet's exceptionally dense atmosphere is another story entirely. At an altitude of approximately 50 kilometers, conditions inside the Venusian atmosphere are far more forgiving. The atmospheric pressure at this altitude is almost identical to surface-level pressures on Earth, and the average temperature is cool enough that liquid water can form. While the chemical composition of the atmosphere is not breathable by Earthly standards, and the clouds of sulfuric acid aren't particularly welcoming, it's certainly not out of the realm of possibility that simple organisms could thrive in this CO2-rich environment. If there really is life on Venus, many speculate it will be found hiding in this relatively benign microcosm high in the clouds.
In short, all the pieces seem to be falling into place. Observations confirm a telltale marker of biological life is in the upper levels of the Venusian atmosphere, and we know from previous studies that this region is arguably one of the most Earth-like environments in the solar system. It's still far too early to claim we've discovered extraterrestrial life, but it's not hard to see why people are getting so excited.
But this isn't the first time scientists have turned their gaze towards Earth's twin. In fact, had things gone differently, NASA might have sent a crew out to Venus after the Apollo program had completed its survey of the Moon. If that mission had launched back in the 1970s, it could have fundamentally reshaped our understanding of the planet; and perhaps even our understanding of humanity's place in the cosmos.
Continue reading "Exploring The Clouds Of Venus; It's Not Fantasy, But It Will Take Specialized Spacecraft" →