Does your electronics desk have a lap drawer? And is it filled with random, disorganized detritus? Well, [Handy Bear] is here to show you that you can put so much more in every drawer you've got if you do it right. And boy, it sure looks like [Handy Bear] did it right.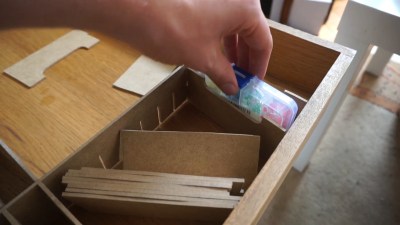 Hidden inside this beautiful antique desk is plastic storage compartment after plastic storage compartment, all situated inside custom dividers made painstakingly from 3mm MDF. The first iteration, a cubbyhole arrangement, was not modular and looked crappy by [Handy Bear]'s standards.
Back to the drawing board and the scroll saw. [Handy Bear] came up with a new scheme that mimics the dividers in the plastic storage boxes they're using for components and more. In addition to the slotted parts are open-top boxes for things like the multimeter, helping hands, and the ever-important label maker.
[Handy Bear] used hot glue and simple joinery for everything, sealing all the seams with a mixture of glue and water to keep it from turning to dust. We especially like the caliper holder for the lap drawer. You'll notice that not quite everything fits inside the desk, so [Handy Bear] put the bigger stuff on a couple of IKEA carts. Be sure to check out the short build video and take the desk tour after the break.
Don't have room for a whole desk worth of stuff? Build an electronics lab in a box!
Continue reading "The Loveliest Electronics Desk You'll See Today" →