Google Authenticator is a particularly popular smartphone application that can be used as a token for many two factor authentication (2FA) systems by generating a time-based one time password (referred to as TOTP). With Google Authenticator, the combination of your user name and password along with the single-use code generated by the application allows you to securely authenticate yourself in a way that would be difficult for an attacker to replicate.
That sounds great, but what if you don't have a smartphone? That's the situation that [Lady Ada] recently found herself in, and rather than going the easy route and buying a hardware 2FA token that's compatible with Google Authenticator, she decided to build one herself based on the ESP8266. With the hardware and source documented on her site, the makings of an open source Google Authenticator hardware token are available for anyone who's interested.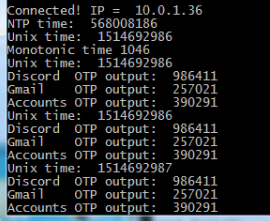 For the hardware, all you need is the ESP8266 and a display. Naturally [Lady Ada] uses her own particular spin on both devices which you can purchase if you want to create an identical device, but the concept will work the same on the generic hardware you've probably already got in the parts bin. Software wise, the code is written in CircuitPython, a derivative of MicroPython, which aims to make microcontroller development easier. If you haven't tried MicroPython before, grab an ESP and give this a roll.
Conceptually, TOTP is relatively simple. You just need to know what time it is, and run an SHA1 hash. The time part is simple enough, as the ESP8266 can connect to the network and get the current time from NTP. The calculation of the TOTP is handled by the Python code once you've provided it with the "secret" pulled from the Google Authenticator application. It's worth noting here that this means your 2FA secrets will be held in clear-text on the ESP8266's flash, so try not to use this to secure any nuclear launch systems or anything, OK? Then again, if you ever lose it the beauty of 2-factor is you can invalidate the secret and generate a new one.
We've covered the ins and outs of 2FA applications before here at Hackaday if you'd like to know more about the concept, in addition to previous efforts to develop a hardware token for Google Authenticator.