When it comes to placing a project underwater, the easy way out is to just stick it in some sort of waterproof container, cover it with hot glue, and call it a day. But when you need to keep water out for several years, things get significantly harder. Luckily, [Patricia Beddows] and [Edward Mallon] from the Cave Pearl Project have written up their years of experience waterproofing data loggers for long-term deployment, making the process easier for the rest of us.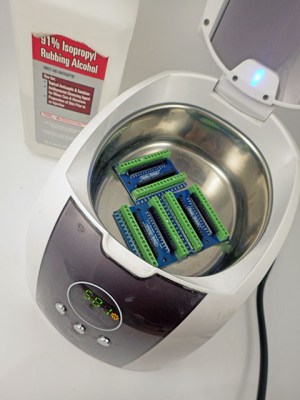 It starts with the actual board itself. Many SMD boards have at least some flux left over from the assembly process, which the duo notes has a tendency to pull water in under components. So the first step is to clean them thoroughly with an ultrasonic cleaner or toothbrush, though some parts such as RTCs, MEMs, or pressure sensors need to be handled with significant care.
Actual waterproofing starts with a coating like 422-B or nail polish which each have pros and cons. [Patricia] and [Edward] often apply coatings to PCBs even if they plan to otherwise seal it as it offers a final line of defense. The cut edges of PCBs need to be protected so that water can't seep between layers, though care needs to be made for connectors like SD cards.
Encapsulation with a variety of materials such as hot glue, heat shrink tubing, superglue and baking soda, silicone rubber, liquid epoxy, paste epoxy (like J-B Weld), or even wax are all commented on. The biggest problem is that a material can be waterproof but not water vapor proof. This means that condensation can build up inside a housing. Temperature swings also can play havoc with sealings, causing gaps to appear as it expands or contracts.
Overall, it's an incredible guide with helpful tips and tricks for anyone logging data underwater for science or even just trying to waterproof their favorite watch.
Continue reading "A Survey Of Long-Term Waterproofing Options" →