We're all for buying broken stuff from eBay to save yourself a few bucks: buy it cheap, fix it, and reap the rewards of being a step ahead of the average consumer. Searching through the "For parts or not working" categories is nearly the official pastime here at the Hackaday Bunker. But buying an eBay find only to have it give up the ghost in a couple weeks? That hurts.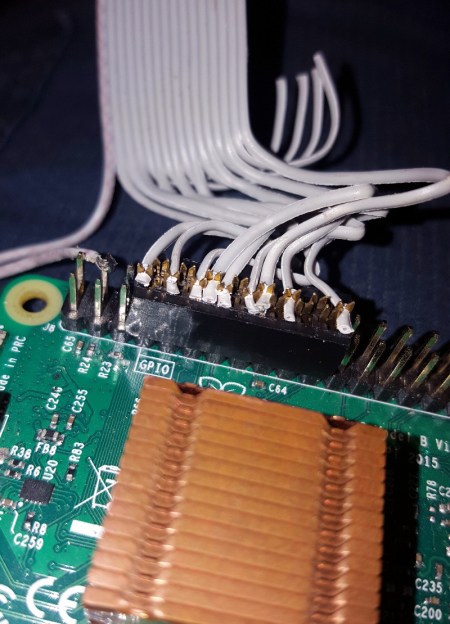 That's precisely what happened to [idaresiwins] when he bought this beefy looking "Web Power Switch" on the Electronic Bay. After two weeks, the controller board blew and his "smart" power strip became very stupid indeed. But with the addition of a Raspberry Pi, he's got it back up and running. Not only that, but given the extra horsepower this device now contains, it now doubles as a basic server for the home lab.
This conversion was helped by the fact that the original controller was on a separate board from the relays, and connected with a small ribbon cable. All [idaresiwins] had to do was figure out which wire in the cable went to each of the eight relays, and fire them off with the Pi's GPIO pins. In an interesting detail, he opened up one of the ends of the ribbon cable and used it as a punch down block of sorts to easily hook the wires up to the Pi's pins. We might suggest some hot glue to keep everything from moving around, but otherwise it's a neat tip.
[idaresiwins] found some information online about making a web-based GPIO interface, which he adapted to control the outlets on the power strip. He then wrapped the Pi up in plastic to keep it from shorting out, and tucked it inside the case. Note that he was able to pull 5 VDC from the relay board and run it to the Pi over the ribbon cable, so he didn't need to bother with hacking a USB adapter in there.
Controlling AC devices over the Interwebs is an extremely popular project, and we've even seen a DIY device that looks quite similar to this product. Most of them are now using the ESP8266, but with the Pi onboard this hack is more like a super-sized version of the PowerPwn.