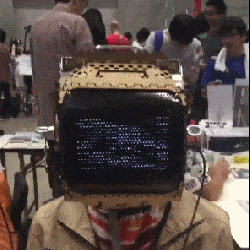 Part performance art and part social experiment, [mocymo]'s Smilemachine V6 helmet is as delightful as it is expressive. The helmet is made primarily from laser-cut MDF assembled around parts from a safety helmet. The display is an Android tablet with fine operation controlled by a Bluetooth mini keyboard, and the helmet cleverly makes use of the tablet's ability to adjust the display to compensate for head tilt angle. It recently made an appearance at Maker Faire Tokyo, where the creator says the reception (especially by children) exceeded expectations.
There are several interesting things done with this device. One is the handheld controller, which is essentially a mini Bluetooth keyboard. To help allow fine control without needing to look down at the controller, the keyboard sits in a frame with some nuts and bolts used as highly tactile button extensions. By allowing the user to change the physical button layout (and setting up keyboard shortcuts on the device to match) the arrangement can be made more intuitive for the user. Some photos of this assembly are in the gallery after the break.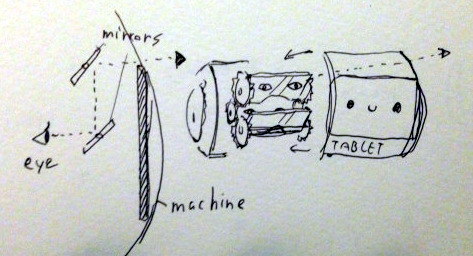 Another interesting bit is that despite a tablet being right in front of your eyes, it is possible to see out the front of the helmet while wearing it. The solution is completely low-tech: two mirrors form a periscope whose angle can be adjusted by turning a knob on the side of the helmet.
Version 1 of the helmet was started back in 2012; this is version 6 and [mocymo] is already filling out a to-do list for refinements. The nose area is uncomfortable, the angle of periscope is slightly off and the gearing needs to be reworked, among other things. We can't wait to see Version 7. Video and gallery are embedded below.
Continue reading ""Smilemachine" Helmet Is A Delightful Mixture Of Tech" →