When it comes to dominating offroad performance, many people's first thought is of tracked vehicles. Bulldozers, tanks and excavators all use treads, and manage to get around in difficult terrain without breaking a sweat. Today, we're exploring just what makes tracked vehicles so capable, as well as their weaknesses.
It's All About Ground Pressure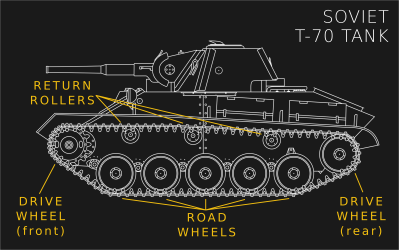 Let's first look at how tank tracks work. There are a huge variety of designs, with differences depending on application. Different trends have been followed over time, and designs for military use in combat differ from those used for low-speed construction machines, for example. But by looking at a basic tank track design, we can understand the basic theory. On tanks, the track or tread itself is usually made up of individual steel links that are connected together with hinges, though other machines may use rubber tracks instead. The tracks are wrapped around one or more drive wheels, often cogged, which directly pull on the track. On the bottom of the vehicle are the road wheels, which ride on top of the track where it lies on the ground.  The weight of the vehicle is carried through the road wheels and passed on to the tread, spreading out the load across a broader area. Outside of this, the track system may also have one or more idler wheels used to keep the track taught, as well as return rollers to guide the track back around without touching the road wheels.