Writing is a difficult job; though, as a primarily word-based site, we may be a little biased here at Hackaday. Not only does a writer have to know the basics, like what a semicolon is and when to use one, they also need to build sentences that convey information in a manner that is pleasant to read. As many commenters like to point out, even we struggle with this on occasion (lauded and scholarly as we are).
Wouldn't it be better if we could let our computers do the heavy lifting for us? After all, a monkey with infinite time will eventually write Shakespeare and all that. Surely, a computer can be programmed to do all that fancy word assembly while we sit back and enjoy some coffee. Well, that's what [Robin Sloan] set out to do with a recurrent neural network-powered writing assistant.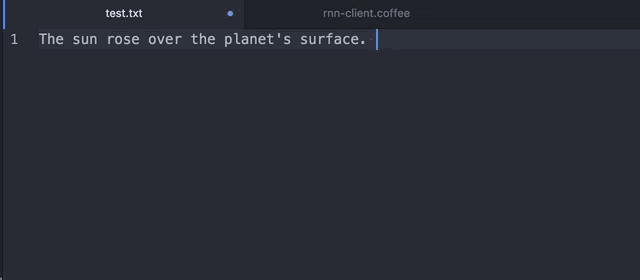 Alright, so it doesn't actually write completely on its own. Instead, [Robin's] software takes advantage of [JC Johnson's] torch-rnn project, and integrates it into Atom to autocomplete sentences. [Robin] trained his neural network on hundreds of old issues of the sci-fi magazines Galaxy and IF Magazine, which are available at the Internet Archive. Once the server and corresponding Atom package are installed, a writer can simply push the Tab key and the sentence will be completed.
The results are interesting. [Robin] himself says "it's like writing with a deranged but very well-read parrot on your shoulder." While it's not likely to be used as a serious writing tool anytime soon, the potential is certainly intriguing. When trained on relevant source material, the integration into software like Atom could be very useful. If a neural network can compose music, surely it can write some silly tech articles.
[thanks to Tim Trzepacz for the tip!]
Typewriter image: LjL (Public domain).