Husband and wife team [Jason & Kara] hail from Canada, and in 2018, after building their own camper, sold up their remaining earthly goods and headed south. If you're not aware of them, they documented their journey on their YouTube channel, showing many interesting skills and hacks along the way. The video we're highlighting today shows a myriad of ways to power all the DC-consuming gadgets this they lug along with them.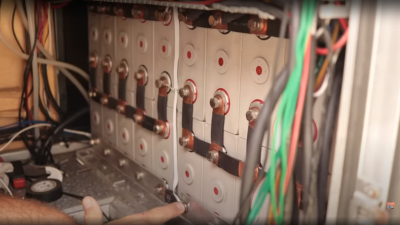 Their heavily modded F-550 truck houses 12kWh of LiFePO4 batteries and a 1.5kW retractable solar array, with a hefty inverter generating the needed AC power. They weren't too happy with the conversion losses from piles of wall warts that all drained a little power, knowing that the inverter that fed them was also not 100% efficient. For example, a typical laptop power brick gets really hot in a short time, and that heat is waste. They decided to run as much as possible direct from the battery bank, through different DC-DC converter modules in an attempt to streamline the losses a little. Obviously, these are also not 100%
efficient, but keeping the load off the inverter (and thus reducing dependency upon it, in the event of another failure) should help stem the losses a little. After all as [Jason] says, Watts saved are Watts earned, and all the little lossy loads add up to a considerable parasitic drain.
One illustration of this is their Starlink satellite internet system consumes about 60W when running from the inverter, but only 28W when running direct from DC. Over the course of 24 hours, that's not far off 1kWh of savings, and if the sun isn't shining, then that 12kWh battery isn't going to stretch as far.
There are far too many hacks, tips, and illustrations of neat space and power-saving solutions everywhere, to write here. Those interested in self-build campers or hacking a commercial unit may pick up a trick or two.
Continue reading "Converting On-Grid Electronics To Off-Grid" →