CMOS imaging chips have been steadily improving, their cost and performance being driven by the highly competitive smartphone industry. As CMOS sensors get better and cheaper, they get more interesting for hacker lab projects. In this post I'm going to demonstrate a few applications of the high-resolution sensor that you've already got in your pocket — or wherever you store your cell phone.
CMOS vs CCD
First lets quickly review image sensors. You've probably head of CMOS and CCD sensors, but what's the difference exactly?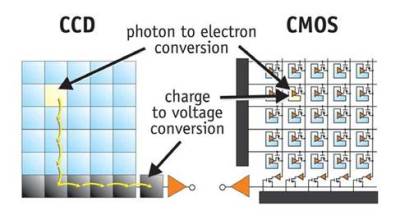 As the figure above shows, CCD and CMOS sensors are both basically photodiode arrays. Photons that hit regions on the chip are converted into a charge by a photodiode. The difference is in how this charge in shoved around. CCD sensors are analogue devices, the charge is shifted through the chip and out to a single amplifier. CMOS sensors have amplifiers embedded in each cell and also generally include on-chip analogue to digital conversion allowing complete "camera-on-a-chip" solutions.
Because CMOS sensors amplify and move the signal into the digital domain sooner, they can use cheaper manufacturing processes allowing lower-cost imaging chips to be developed. Traditionally they've also had a number of disadvantages however, because more circuitry is included in each cell, less space is left to collect light. And because multiple amplifiers are used, it's harder to get consistent images due to slight fabrication differences between the amplifiers in each cell. Until recently CMOS sensors were considered a low-end option. While CCD sensors (and usually large cooled CCD sensors) are still often preferred for scientific applications with big budgets, CMOS sensors have now however gained in-roads in high performance DSLRs.