As with the age-old panic after realizing you have left an oven on, a cand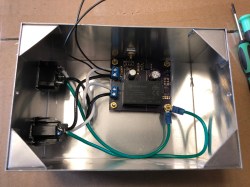 le lit, and so on, a soldering tool left on is a potentially serious hazard. Hackaday.io user [Nick Sayer] had gotten used to his Hakko soldering iron's auto shut-off and missed that feature on his de-soldering gun of the same make. So, what was he to do but nip that problem in the bud?
Instead of modding the tool itself, he built an AC plug that will shut itself off after a half hour. Inside a metal project box — grounded, of course — an ATtiny85 is connected to a button, an opto-isolated TRIAC AC power switch, and a 'pilot' light indicating power. After a half hour, the ATtiny triggers the opto-isolator and turns off the outlet, so [Sayer] must push the button if he wants to keep working. He notes you can quickly double-tap the button for a simple timer reset.