[Crispernaki] and I have something in common. We both saw this awesome project that made a scroll wheel out of a VHS head back in 2010, and wanted to make one. We both wanted to put our own spin on the gadget, (tee-hee), discovered that it was harder than either of us wanted to commit to, and gave up.
Flash forward about a million Internet years, and [crispernaki] finally made his and wrote it up. The only problem is that it was too easy. In 2010, making USB gadgets was a lot more involved than it is today. (Back then, we had to chisel device descriptors on stone tablets.) Nowadays, the firmware is just a matter of importing the right library, and the hardware is a magnetic rotation sensor breakout board, a magnet, and super glue. Cheap, and easy.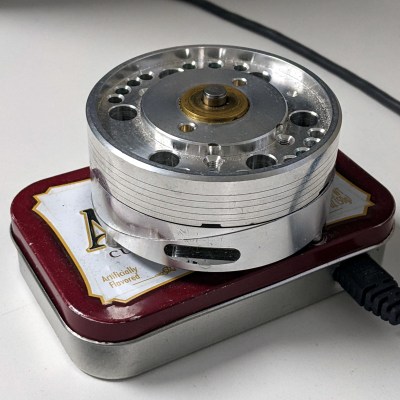 All of this led our hero to feeling insecure. After all, a hack that beat him a dozen years ago turned out to be dead easy today. Maybe it was too easy? Maybe he wasn't a "real" hacker? These are the signs of impostor syndrome – that feeling that just because you aren't the world's best, or climbing the highest mountain, or hacking the hardest project, you're not worthy.
Well, listen up. Impostors don't finish projects, and impostors don't write them up to share with all the rest of us. By actually doing the thing – hacking the hack – all chances of being a fake are ruled out. The proof is sitting there on your desk, in all its Altoids-tin glory.
And it's not your fault that it was too easy this time around. You can't do anything to turn back the hands of time, to make the project any harder these days, or to undo the decade of hacker technical progress on the software side, much less change the global economy to make a magnetic sensor unobtainable again. The world improved, you got your hack done, and that's that. Congratulations! (Now where do I buy some of those on-axis magnets?)