Unix and, by extension, Linux, has a mantra to make everything possible look like a file. Files, of course, look like files. But also devices, network sockets, and even system information show up as things that appear to be files. There are plenty of advantages to doing that since you can use all the nice tools like grep and find to work with files. However, making your own programs expose a filesystem can be hard. Filesystem code traditionally works at the kernel module level, where mistakes can wipe out lots of things and debugging is difficult. However, there is FUSE — the file system in user space library — that allows you to write more or less ordinary code and expose anything you want as a file system. You've probably seen FUSE used to mount, say, remote drives via ssh or Dropbox. We've even looked at FUSE before, even for Windows.
What's missing, naturally, is the Hackaday RSS feed, mountable as a normal file. And that's what we're building today.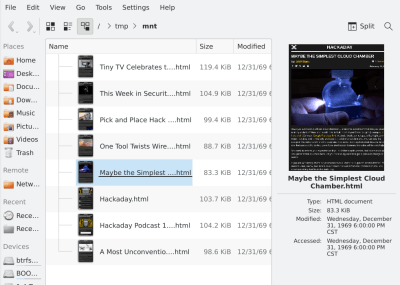 Writing a FUSE filesystem isn't that hard, but there are a lot of tedious jobs. You essentially have to provide callbacks that FUSE uses to do things when the operating system asks for them. Open a file, read a file, list a directory, etc. The problem is that for some simple projects, you don't care about half of these things, but you still have to provide them.
Luckily, there are libraries that can make it a lot easier. I'm going to show you a simple C++ program that can mount your favorite RSS feed (assuming your favorite one is Hackaday, of course) as a file system. Granted, that's not amazing, but it is kind of neat to be able to grep through the front page stories from the command line or view the last few articles using Dolphin. Continue reading "Linux Fu: Fusing Hackaday" →