I grew up in a small town with a small library. The next town over had what I thought at the time was a big library, but it was actually more like my town had a tiny library, and the next one over had an actual small library. When I left to go to University, I found out what a real library looked like, and I was mesmerized. Books! Lots of books, many of them written in the current decade. My grades probably suffered from the amount of time I spent in the library reading things that didn't directly relate to my classes. But there was one thing I found that would turn out to be life-changing: A real computer magazine. Last month, Harry McCracken pointed out that the last two widely-distributed American consumer computer magazines ceased paper publication. It is the end of an era, although honestly, it is more like a comatose patient expiring than a shocking and sudden demise.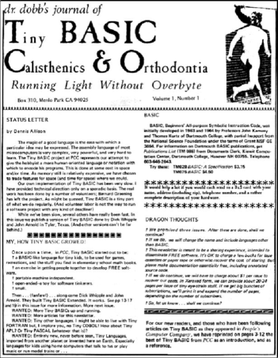 Actually, before I had gone to college, I did have a subscription to Kilobaud, and I still have some copies of those. No offense to Wayne Green, but Kilobaud wasn't that inspiring. It was more an extension of his magazine "73", and while I enjoyed it, it didn't get me dreaming. Dr. Dobb's Journal — the magazine I found in the stacks of my University's library — was tangibly different. There was an undertone of changing the world. We weren't sure why yet, but we knew that soon, everyone would have a computer. Maybe they'd balance their checkbook or store recipes. A few people already saw the potential of digital music reproduction, although, I must admit, it was so poor at the time, I couldn't imagine who would ever care.
I say it was life-changing to discover the few issues of Dr. Dobb's that were published back then because I would go on to contribute to Dr. Dobb's throughout its storied history. I wrote the infamous DOS extender series, produced special issues, and, when it went mostly digital, was the embedded system blogger for them for more years than I care to admit. In fact, I have the dubious distinction of having the final blog posted; although the website has suffered enough bit rot, I'm not sure any of it has survived other than, maybe, on the Wayback machine. While I wasn't with the magazine for its entire 38-year run, I read it for at least 35 and had some function there for about 24 of those.