You've seen printers with scanners in them, printers with copiers in them, even ones with the ancient technology known as "facsimile" built-in. But have you ever seen a printer with a full gaming computer built into it? No? Well, you still haven't, technically. There's no printer to be had anymore inside this re-purposed HP Photosmart 6520 case, but it's probably the closest we're going to get.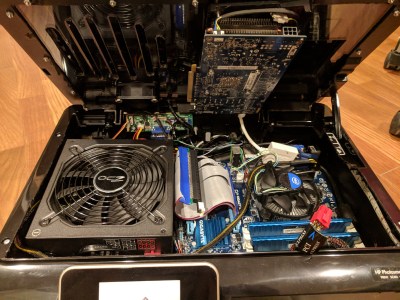 [Jacob Lee] wrote in to share this awesome build with us, which sees the motherboard, graphics card, ATX power supply, and hard drives all fit seamlessly into the shell of a disused "All-in-one" style printer. Incredibly, he even managed to integrate an LCD into the top; which hinges open when in use and gives a look down into the madness that makes this build tick.
To say there's a lot of hardware packed into this thing is an understatement. Which is all the more impressive when you consider that he] didn't take the easy way out for any of it. He could have used a mini-ITX motherboard, or a slim PSU. He could have even dropped the graphics card for integrated. No, [Jacob] is clearly a subscriber to the "Go big or go home" ethos.
As if putting all this gear inside of a normal looking printer case wasn't impressive enough, he even went as far as adding female ports for Ethernet, HDMI, and USB on the rear of the device to give it a stock look. He mentions there's some room for improvement with the USB ports, but the power switch and IEC port really look like they could have been original components.
In the age of the Raspberry Pi and other diminutive computers, we don't see too many proper desktop computer projects anymore. Fewer still that are so well executed and creative. We don't know how many other people might be trying to stick a computer in a printer case, but if they're out there, the bar has just been set pretty high.