Bioelectronics has been making great strides in recent years, but interfacing rigid electrical components with biological systems that are anything but can prove tricky. Researchers at the Laboratory for Organic Electronics (LOE) have found a way to bridge the gap with conductive gels. (via Linköping University)
Outside the body, these gels are non-conductive, but when injected into a living animal, the combination of gel and the body's metabolites creates a conductive electrode that can move with the tissue. This is accompanied by a nifty change in color which makes it easy for researchers to see if the electrode has formed properly.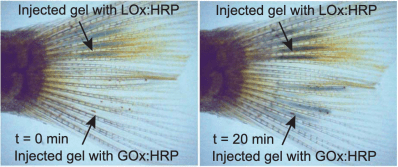 Applications for the technology include better biological sensors and enhanced capabilities for future brain-controlled interfaces. The study was done on zebrafish and medicinal leeches, so it will be awhile before you can pick up a syringe of this stuff at your local computer store, but it still offers a tantalizing glimpse of the future.
We've covered a few different brain electrodes here before including MIT's 3D printed version and stentrodes.