Down the rabbit hole you go.
In my particular case I am testing a new output matching transformer design for an audio preamplifier and using one of my go to driver circuit designs. Very stable, and very reliable. Wack it together and off you go to test and measurement land without a care in the world. This particular transformer is designed to be driven with a  class A amplifier operating at 48 volts in a pro audio setting where you turn the knobs with your pinky in the air sort of thing. Extra points if you can find some sort of long out of production parts to throw in there for audiophile cred, and I want some of that.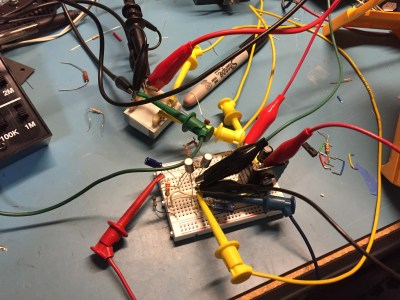 Lets use some cool retro transistors! I merrily go along for hours designing away. Carefully balancing the current of the long tailed pair input. Picking just the right collector power resistor and capacitor value to drive the transformer. Calculating the negative feedback circuit for proper low frequency cutoff and high frequency stability, and into the breadboard the parts go — jumper clips, meter probes, and test leads abound — a truly joyful event.
All of the voltages check out, frequency response is what you would expect, and a slight tweak to the feedback look brought everything right into happiness. Time to fire up the trusty old HP 334A Distortion Analyzer. Those old machines require you to calibrate the input circuit and the volt meter, tune a filter to the fundamental frequency you are applying to the device under test and step down to lower and lower orders of distortion levels until the meter happily sits somewhere in the middle of a range.
Most modern circuits in even cheap products just go right down to sub .1% total harmonic distortion levels without even a thought and I expected this to be much the same. The look of horror must have been pronounced on my face when the distortion level of my precious circuit was something more akin to a clock radio! A frantic search began. Was it a bad jumper, or a dirty lead in the breadboard, or an unseated component? Was my function generator in some state of disrepair? Is the Stephen King story Maximum Overdrive coming true and my bench is going to eat me alive? All distinct possibilities in this state of panic.