One of the best parts of retrocomputing is that you can obtain so many broken systems and peripherals for repairing and other assorted fun. This was the wholesome activity that [Drygol] embarked on recently with a gaggle of Commodore floppy disk drives that he obtained, involving a lot of cleaning, soldering, calibrating and other assorted entertainment. This follows cold on the heels of an earlier repair session of a stash of Commodore 1541 FDDs.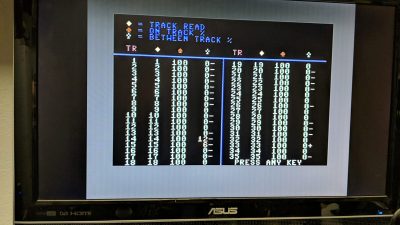 As with any such devices, the first thing to do is to clean the heck out of them, to remove forty-odd years of dust and other debris, followed by testing of functionality, replacing dead ICs and the usual round of (electrolytic) capacitor replacement. Retrobrighting gives it that fresh-out-of-packaging look, which leaves just the calibrating of these drives. This procedure is essential to make sure the read/write head is aligned with the tracks on the disks, and is the most fiddly part of the process.
What helps a lot here is the 1541 diagnostic cartridge by [World of Jani] that displays real-time information on the drive while you are tweaking its speed and head alignment. All you have to do is tweak the speed potentiometer, and adjust the position of the drive motor, which takes a bit of patience and a steady hand. After this repair session a few Mitsumi drives unfortunately remained dead due to busted coils. Despite a valiant repair attempt on the heads by manually rewinding the coils, this remains a topic for a potential part III.