Ever wondered how to approach making your own digital guitar effects pedal? [Steven Hazel] and a friend have done exactly that, using an Adafruit Feather M4 Express board and a Teensy Audio Adapter board together to create a DIY programmable digital unit that looks ready to drop into an enclosure and get put right to work in the studio or on the stage.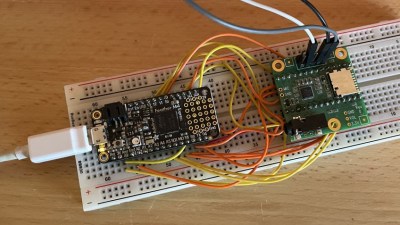 [Steven] also made a custom PCB to mount everything, including all the right connectors, but the device can be up and running with not much more than the two main parts and a breadboard.
On the inside, the Adafruit Feather M4 Express board works with the audio board over I2S, a standard for sending serial digital audio between chips. Working with the audio itself is done with the Teensy Audio Library, providing a fantastic array of easy-to-use functions for processing and manipulating digital audio streams.
Together, all the right pieces are in place and [Steven] provides the code for a simple tremolo effect as a glimpse of what's possible with the unit. Interested in going a bit further? [Steven] shares additional details about what's involved in writing a custom effect from scratch using the Teensy Audio Library.
As mentioned, I2S is where it's at when it comes to working with digital audio at the chip level, and our own Jenny List can tell you everything you need to know about I2S, a useful protocol that has actually been around since 1982!