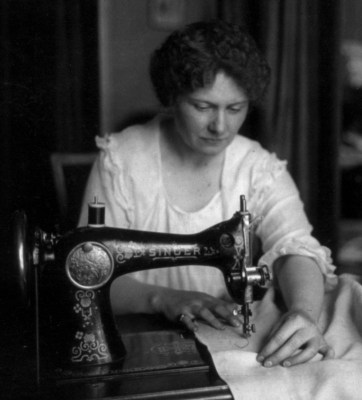 In our hackspace, we've opened a textile room in the last month. We have high hopes for it as a focal point for cosplayers and LARPers as well as the makers of wearable electronics and more traditional textile users. Putting it in has involved several months of hard work bringing a semi-derelict and previously flooded room that was once the walk-in safe for our local school authority to a point at which it is a light and welcoming space, but a surprising amount of work has also had to go into winning the hearts and minds of our community for the project.
Putting it quite simply, textiles aren't seen as very cool, in hackspace terms. You know, Women's stuff. Your mother does it, or even maybe if you are a little younger, your grandmother. It's just not up there with laser cutting or 3D printing, and as a result those of us for whom it's a big part of making stuff have had to fight its corner when it comes to resources within the space.
Yet not so long ago when I brought a pair of worn-out jeans into the space on a social night and hauled out our Lervia sewing machine to fix them, I had a constant stream of fellow members passing by amazed at what I was doing. "You can repair jeans?" they asked, incredulously. For some reason this prospect had not occurred to them, I was opening up a new vista in clothing reincarnation, to the extent that before too long in our new facility I may be giving a workshop on the subject as the beloved former trousers of Oxford Hackspace denizens gain a chance of new life.