Where would the world be today without Pong, perhaps a lot less fun? For people like [Linker3000] the game is an inspiration toward teaching the next generation of hackers to build and play their own version using Micro:bits as controllers!
Aiming for doing all manner of diligence, [Linker3000] says the code can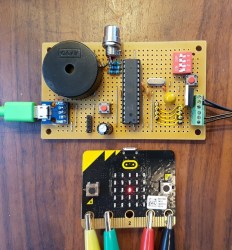 simply be uploaded to an Arduino — foregoing throwing together a circuit of your own — if you want to jump right into things. For the workshop environment, this setup uses composite video outputs — but this shouldn't be an issue as most TVs still retain these inputs.
Once built — or sketch uploaded — the Micro:bit paddles can be connected to the ATmega328p and played like an old-school controller, but [Linker3000] has enabled Bluetooth control of the paddles' A and B buttons via the Bitty app. Additionally — if wires really aren't your thing and Bluetooth is too new-school for such an old game — a second Micro:bit can control the wired paddle using their built-in radio, provided they're configured accordingly.
On top of Pong, there are also squash and soccer game modes! Check out the demo after the break.